Do you have the right clubs in your bag to set you up for success this season? While many golfers are tempted to maximize their distances with each of their clubs, it's more important to make sure you have the optimal yardage between each club. This is called distance gapping, and it is one of the most overlooked data points by golfers. Check your distance gapping every few months to make sure there aren't any major changes.
Ideally, you should have 10-15 yards between each club distance average. This ensures that no matter what distance you have on the golf course, you have an option in the bag. When the gaps between clubs get above 15 yards, you can start to see a serious impact on performance.
How to Check Distance Gapping
The first step to checking your club distance gapping is to measure the average distance you hit each club. Although many golfers think the best way to measure their average club distances is by hitting golf balls on a driving range or with a launch monitor, the best way to measure your average club distances is by tracking your shots on the golf course where you can hit real shots under real conditions. This is easy to do using the Roundabout shot and stat tracking mobile app.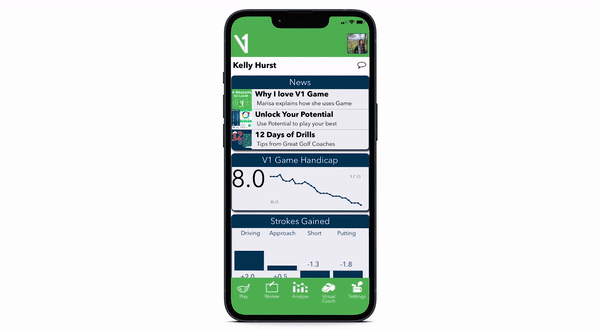 Roundabout is exactly what avid golfer Kelly Hurst used to track more than 30 rounds and hundreds of shots last year. The Roundabout app Shot Table showed her the data that she needed to identify areas of weaknesses in her game to work on for the upcoming season. What stood out the most were the large gaps between some of her club distances.
"As I was diving deeper into my club distance data within Roundabout, I noticed there were some major gaps between my clubs," said Kelly. "I was hitting my 5-iron about the same distance as my 6-iron and the distance between my 5-iron and my next club, a 4-hybrid, was nearly 20 yards."
"I always struggled with my 5-iron, my longest iron and least favorite club in my bag, but I didn't realize how much it was affecting my performance until I started tracking my shots with Roundabout," said Kelly. "I decided to reach out to a professional club fitter in my area to see what options I had for replacing the 5-iron with a club that I could comfortably fill that 150-155 yard gap in my bag."
The Club Fitting
Armed with her Roundabout data, Kelly scheduled a club performance fitting with Ryan Johnson, Director of Club Fitting at Carl's Golfland. She sent him her Roundabout data to review ahead of time.
"Kelly's real-world Roundabout data was very helpful. Having that much data saved a lot of leg work trying to determine what area in the bag needed to be addressed. The more information I can have before the fitting only helps the fitting and the overall experience". They both agreed that the goal was to fill the gap between the 6 Iron (142 yards) and 5 Wood (178 yards).
During the fitting process, Kelly tried several different club options. In the end, they ended up replacing her 5-iron and her 4-hybrid with a 5-hybrid and a 7-wood respectively. "We were able to find a solution that gave Kelly a little more yardage and gapped great in the bag," said Ryan.
The Result
Kelly's club fitting could not have come at a better time as she had a scheduled golf trip the following week to the Robert Trent Jones Trail at Grand National in Auburn, Alabama. She put her new clubs in play and the results were immediate.
"On my 5th hole, I had a 156 yard uphill shot from the middle of the fairway. I confidently hit my new 5-hybrid onto the green," said Kelly.
"I had a similar approach shot on the 12th hole that was a little intimidating — I had about 160 yards to a green that was protected by water on the left and a bunker on the right," said Kelly. "Not only did I hit my new 5-hybrid on the green, but I was able to stop it, thanks to the high loft that I was never able to achieve in the past with my 5-iron".
How to Track Your Club Distance in the Roundabout App
To set up your clubs for proper tracking in Roundabout, go to Settings, Tracking Preferences, Manage Clubs. From here, you can add and remove the clubs you're currently playing with, and appropriately tag them during your round or add them in post-round editing. To read more about setting up your clubs, click here. Then, you can use Roundabout to easily check your distance gapping!
Want to learn more about Roundabout? Click here!